YOUR TRADITIONS. OUR STORIES.
A look at how we got started.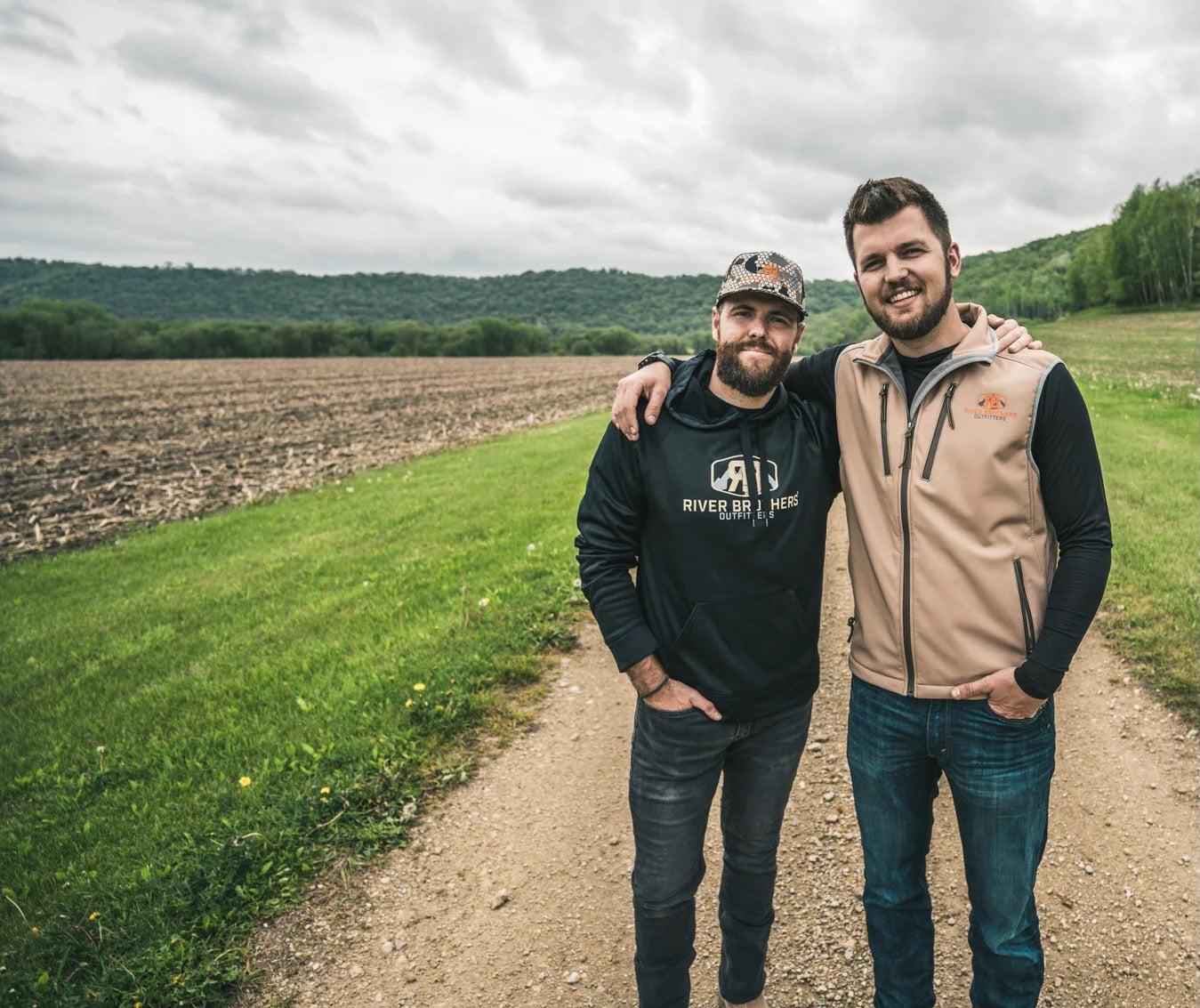 Our story started on a small river running through a large piece of land hidden behind a handcrafted duck blind. My brother and I grew up duck hunting on this river and deer hunting just a few hundred yards behind it. With a passion so deep for what we did, we realized that it was much more than just the hunt. It was the sleepless nights before hand, the base camps, the people, the stories, the adrenaline, the passion and the memories that we'll share with the generations to come. These Traditions carved us into who we are today & gave us our passion for the outdoors.
Our goal was to grasp these Legendary Traditions that we were raised on & share them with the rest of the world. Showing the nation who we are, where we came from & why we love what we do.
We are River Brothers Outfitters & these are our Legendary Traditions.
The River Brothers Vision is to make a lasting impact on hunters based in the Midwest through forging their own legendary traditions in the outdoors that they can pass on to their own future generations. Through making this impact we also promise to donate 2% from our revenue back to local conservation groups.
DEVON NOEHRING
Owner // Founder // CEO & Product Development
Devon grew up in central Minnesota. He started out trotting through the tall grass and carrying a Ruger style cap gun on duck hunts with his dad at the age of 4. He grew up hunting in the fall, a little ice fishing in the winter and watersports in the summer months. While attending college at Minnesota State University, Mankato, he started his first company as a personal internship to gain experience in the business world, but it ended up taking off to be  much more than just an internship. After being inspired by the concept of doing what you love, Devon put to work planning and shaping River Brothers' brand.
"At an early age I was inspired by the many different traditions that I had experienced within and around this rugged lifestyle, year after year. I was also intrigued how all of my friends & their families had their own famous traditions that were part of their hunting and fishing adventures. These traditions are big reasons why we love what we do and I wanted to grasp them. Highlighting the reasoning why we do what we do and to inspire others to start forging their own legendary traditions in the outdoors that can be passed on to the many generations to come." - Devon
JORGEN DAHL
Owner // Founder // Director of Sales & Corporate Partnerships
Jorgen grew up in Bloomington, MN but spent most of his time at the cabin in northern MN or the farm in Southeastern MN.  He was raised by an outdoor family so has been in the field on opening day since he was 4.  Over the years he has become an avid sportsman hunting whitetail, ducks, pheasants and fishing.  He also enjoys racing motocross, snowmobiling and water sports.  He attended South Dakota State University where he earned a bachelor's degree in agriculture system technologies and a minor in agriculture business.  While at SDSU he started the Men's Club LaCrosse Team and an outfitter business HD Outfitters. Though he loved South Dakota, he came back to his family roots in Minnesota, and calls Delano, MN his home.
For Jorgen, hunting and fishing are much more than coming home with your limit.  It's about the stories that get created, the smiles encountered along the way, and the opportunity to continue to build a rich tradition across generations of families and friends.
MIKAL DAHL
Warehouse Manager + Operations
Mikal, featured on the right in the photo, was born and raised in Wisconsin. She's always been extremely passionate for the outdoors and just started enjoying time in the woods while pursuing whitetails in recent years! She harvested her first deer just two seasons ago and if it were up to her she'd spend more time in the woods than at the warehouse. Mikal is extremely detailed oriented and plays the most important role at our company, getting our gear to you!
Next to Mikal is her husband Erik who has been our biggest cheerleader to date! Erik also is a huge help around our warehouse when the team can't reach boxes on the top shelf.